Black Panther 2018 iTA-ENG Bluray 1080p x264-DDNEVOLUTION mkv
Seeders:
158
Leechers:
55
Completed:
2,347
Age: 5 days Visits: 75 Category: Movies Size: 12.0 GB
Posted by: ppb1 Comments: Read Comments
Info Hash:
FFF887981A42E5AC1476F759440034B86334FC7F
---
Torrent Description


GIUSEPPEiCV & LITTLELINX
HANNO IL PIACERE DI PRESENTARE



BLURAY 1080p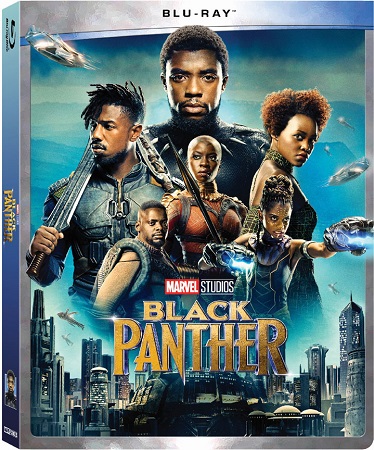 .: Dati :.

DATA USCITA: 14 febbraio 2018
GENERE: Azione, Fantascienza, Drammatico
ANNO: 2018
REGIA: Ryan Coogler
ATTORI: Chadwick Boseman, Michael B. Jordan, Andy Serkis, Angela Bassett, Lupita Nyong'o, Forest Whitaker, Martin Freeman, Sterling K. Brown, Danai Jekesai Gurira, Daniel Kaluuya, Letitia Michelle Wright, John Kani, Florence Kasumba, Sydelle Noel, Isaach De Bankolé, Connie Chiume
PAESE: USA
DURATA: 135 Min
DISTRIBUZIONE: Walt Disney Studios Motion Pictures
SCENEGGIATURA: Joe Robert Cole, Ryan Coogler
FOTOGRAFIA: Rachel Morrison
MONTAGGIO: Claudia Castello, Michael P. Shawver
MUSICHE: Ludwig Goransson
PRODUZIONE: Marvel Studios, Walt Disney Studios Motion Pictures


Trama:

T'Challa, the King of Wakanda, rises to the throne in the isolated, technologically advanced African nation, but his claim is challenged by a vengeful outsider who was a childhood victim of T'Challa's father's mistake.

Dopo la morte di suo padre, mostrata in Captain America: Civil War, il giovane principe T'Challa (Chadwick Boseman) torna a casa per salire sul trono di Wakanda, un'immaginaria nazione nel continente africano, isolata ma tecnologicamente avanzata, e ricca di giacimenti di vibranio. Quando due pericolosi nemici cospirano per portare il regno alla distruzione, T'Challa è pronto a raccogliere l'eredità di suo padre e a indossare gli artigli di Black Panther. Non è la prima volta che il giovane re usa l'identità segreta per fare giustizia: nell'epica battaglia tra lo sprezzante Stark e il cocciuto Rogers, aveva già messo le sue abilità al servizio di Iron Man, in cerca dello scontro diretto con il Soldato d'Inverno. Questa volta, invece della fragile alleanza con la parte più facoltosa dei Vendicatori, T'Challa fa squadra con l'agente della CIA Everett K. Ross (Martin Freeman), completamente ignaro delle ricchezze locali, e con il corpo speciale wakandiano delle Dora Milaje, tra le quali figura anche l'amata Nakia (Lupita Nyong'o). Come Freeman, apparso in Civil War, anche Andy Serkis torna nei panni del trafficante d'armi Ulysses Klaue, conosciuto in Avengers: Age of Ultron

.: Screenshot :.





.: Caratteristiche Tecniche :.

Fonte Video: Bluray
Fonte Audio: iTunes
Tracce Audio: AC3 ITA 2.0 - DTS/AC3 ENG
Tracce Sottotitoli: ITA/ENG
Nome Versione: DDN
[Spoiler]


[ About file ]

Name: Black Panther (2018) .mkv FullHD 1080p AC3 iTA DTS AC3 ENG x264 - DDN.mkv
Date: Tue, 15 May 2018 02:06:41 +0200
Size: 12,892,604,025 bytes (12295.34533 MiB)

[ Magic ]

File type: data

[ Generic infos ]

Duration: 02:14:33 (8073.216 s)
Container: matroska
Production date: Tue, 15 May 2018 02:06:07 +0200
Total tracks: 8
Track nr. 1: video (V_MPEG4/ISO/AVC) [Black Panther (2018) .mkv FullHD 1080p AC3 iTA DTS AC3 ENG x264 - DDN] {eng}
Track nr. 2: audio (A_AC3) [AC3 2.0 iTA iTUNES RESYNC] {ita}
Track nr. 3: audio (A_DTS) [DTS ENG] {eng}
Track nr. 4: audio (A_AC3) [AC3 ENG] {eng}
Track nr. 5: subtitle (S_TEXT/UTF8) [FORCED iTA] {ita}
Track nr. 6: subtitle (S_TEXT/UTF8) [REGULAR iTA] {ita}
Track nr. 7: subtitle (S_TEXT/UTF8) [FORCED ENG] {eng}
Track nr. 8: subtitle (S_TEXT/UTF8) [NON UDENTI ENG] {eng}
Muxing library: libebml v1.3.1 + libmatroska v1.4.2
Writing application: mkvmerge v8.3.0 ('Over the Horizon') 64bit

[ Relevant data ]

Resolution: 1920 x 804
Width: multiple of 32
Height: multiple of 4
Average DRF: 15.127515
Standard deviation: 4.437397
Std. dev. weighted mean: 4.368794

[ Video track ]

Codec ID: V_MPEG4/ISO/AVC
Resolution: 1920 x 804
Frame aspect ratio: 160:67 = 2.38806
Pixel aspect ratio: 1:1 = 1
Display aspect ratio: 160:67 = 2.38806
Framerate: 23.976024 fps
Stream size: 10,526,879,175 bytes (10039.214301 MiB)
Duration (bs): 02:14:33 (8073.106644 s)
Bitrate (bs): 10431.552204 kbps
Qf: 0.281848

[ Audio track nr. 1 ]

Codec ID: A_AC3
Sampling frequency: 48000 Hz
Channels: 2
Stream size: 193,757,184 bytes (184.78125 MiB)
Bitstream type (bs): AC3
Frames (bs): 252,288
Duration (bs): 02:14:33 (8073.216 s)
Chunk-aligned (bs): Yes
Bitrate (bs): 192 kbps CBR
Sampling frequency (bs): 48000 Hz
Mode (bs): stereo

[ Audio track nr. 2 ]

Codec ID: A_DTS
Sampling frequency: 48000 Hz
Channels: 6
Stream size: 1,522,798,296 bytes (1452.253624 MiB)
Bitstream type (bs): DTS
Frames (bs): 756,858
Duration (bs): 02:14:33 (8073.152 s)
Chunk-aligned (bs): Yes
Bitrate (bs): 1536 kbps CBR
Sampling frequency (bs): 48000 Hz
Mode (bs): C + L + R+ SL+SR

[ Audio track nr. 3 ]

Codec ID: A_AC3
Sampling frequency: 48000 Hz
Channels: 6
Stream size: 645,854,720 bytes (615.935059 MiB)
Bitstream type (bs): AC3
Frames (bs): 252,287
Duration (bs): 02:14:33 (8073.184 s)
Chunk-aligned (bs): Yes
Bitrate (bs): 640 kbps CBR
Sampling frequency (bs): 48000 Hz
Mode (bs): 3 front, 2 rear, 1 LFE

[ Video bitstream ]

Bitstream type: MPEG-4 Part 10
User data: x264 | core 152 r2851 ba24899 | H.264/MPEG-4 AVC codec
User data: Copyleft 2003-2017 | ***DDN *** EVO *** CREW **ENCODE | cabac=1
User data: ref=5 | deblock=1:-2:-2 | analyse=0x3:0x133 | me=umh | subme=7
User data: psy=1 | psy_rd=1.05:0.15 | mixed_ref=1 | me_range=32 | chroma_me=1
User data: trellis=2 | 8x8dct=1 | cqm=0 | deadzone=21,11 | fast_pskip=1
User data: chroma_qp_offset=-3 | threads=24 | lookahead_threads=4
User data: sliced_threads=0 | nr=0 | decimate=0 | interlaced=0
User data: bluray_compat=0 | constrained_intra=0 | bframes=3 | b_pyramid=2
User data: b_adapt=2 | b_bias=0 | direct=1 | weightb=1 | open_gop=0 | weightp=2
User data: keyint=240 | keyint_min=23 | scenecut=40 | intra_refresh=0
User data: rc_lookahead=40 | rc=2pass | mbtree=0 | bitrate=10434 | ratetol=1.0
User data: qcomp=0.65 | qpmin=0 | qpmax=69 | qpstep=4 | cplxblur=20.0
User data: qblur=0.5 | vbv_maxrate=50000 | vbv_bufsize=50000 | nal_hrd=none
User data: filler=0 | ip_ratio=1.40 | pb_ratio=1.30 | aq=1:1.00
SPS id: 0
Profile: [email protected]
Num ref frames: 5
Aspect ratio: Square pixels
Chroma format: YUV 4:2:0
PPS id: 0 (SPS: 0)
Entropy coding type: CABAC
Weighted prediction: P slices - explicit weighted prediction
Weighted bipred idc: B slices - implicit weighted prediction
8x8dct: Yes
Total frames: 193,561
Drop/delay frames: 0
Corrupt frames: 0

P-slices: 67099 ( 34.666 %) #######
B-slices: 124299 ( 64.217 %) #############
I-slices: 2163 ( 1.117 %)
SP-slices: 0 ( 0.000 %)
SI-slices: 0 ( 0.000 %)

[ DRF analysis ]

average DRF: 15.127515
standard deviation: 4.437397
max DRF: 30

DRF=1: 105 ( 0.054 %)
DRF=2: 236 ( 0.122 %)
DRF=3: 847 ( 0.438 %)
DRF=4: 1557 ( 0.804 %)
DRF=5: 2855 ( 1.475 %)
DRF=6: 3222 ( 1.665 %)
DRF=7: 3117 ( 1.610 %)
DRF=8: 2949 ( 1.524 %)
DRF=9: 2342 ( 1.210 %)
DRF=10: 3607 ( 1.863 %)
DRF=11: 7580 ( 3.916 %) #
DRF=12: 14189 ( 7.331 %) #
DRF=13: 19976 ( 10.320 %) ##
DRF=14: 22618 ( 11.685 %) ##
DRF=15: 21187 ( 10.946 %) ##
DRF=16: 18407 ( 9.510 %) ##
DRF=17: 15459 ( 7.987 %) ##
DRF=18: 12728 ( 6.576 %) #
DRF=19: 10077 ( 5.206 %) #
DRF=20: 8315 ( 4.296 %) #
DRF=21: 6836 ( 3.532 %) #
DRF=22: 5126 ( 2.648 %) #
DRF=23: 3769 ( 1.947 %)
DRF=24: 2601 ( 1.344 %)
DRF=25: 1686 ( 0.871 %)
DRF=26: 876 ( 0.453 %)
DRF=27: 487 ( 0.252 %)
DRF=28: 193 ( 0.100 %)
DRF=29: 48 ( 0.025 %)
DRF=30: 10 ( 0.005 %)
DRF>30: 0 ( 0.000 %)

P-slices average DRF: 14.172715
P-slices std. deviation: 4.349487
P-slices max DRF: 28

B-slices average DRF: 15.690537
B-slices std. deviation: 4.383412
B-slices max DRF: 30

I-slices average DRF: 12.392048
I-slices std. deviation: 4.127731
I-slices max DRF: 25

[ Profile compliancy ]

Selected profile: MTK PAL 6000
Resolution: 1920 x 804 > 720 x 576
Framerate: 23.976024 <> 25
Buffer underflow: 00:00:05 (frame 111)
Buffer underflow: 00:00:07 (frame 168)
Buffer underflow: 00:00:08 (frame 186)
Buffer underflow: 00:00:08 (frame 196)
Buffer underflow: 00:00:09 (frame 208)
Buffer underflow: 00:00:09 (frame 218)
Buffer underflow: 00:00:09 (frame 227)
Buffer underflow: 00:00:10 (frame 240)
Buffer underflow: 00:00:11 (frame 253)
Buffer underflow: 00:00:11 (frame 266)
Buffer underflow: 00:00:12 (frame 284)
Buffer underflow: 00:00:13 (frame 303)
Buffer underflow: 00:00:13 (frame 321)
Buffer underflow: 00:00:14 (frame 342)
Buffer underflow: 00:00:15 (frame 365)
Buffer underflow: 00:00:16 (frame 384)
Buffer underflow: 00:00:16 (frame 395)
Buffer underflow: 00:00:17 (frame 403)
Buffer underflow: 00:00:17 (frame 412)
Buffer underflow: 00:00:18 (frame 421)
Error: Too many violations

[ Edition entry ]

UID: 15776709845932888960
Hidden: No
Selected by default: No
Playlist: No
Chapters:
00:00:00,000-00:06:56,291: 00:00:00.000 {eng}
00:06:56,291-00:12:02,805: 00:06:56.291 {eng}
00:12:02,805-00:19:12,360: 00:12:02.805 {eng}
00:19:12,360-00:28:32,961: 00:19:12.360 {eng}
00:28:32,961-00:33:11,698: 00:28:32.961 {eng}
00:33:11,698-00:40:57,497: 00:33:11.698 {eng}
00:40:57,497-00:48:34,036: 00:40:57.497 {eng}
00:48:34,036-00:53:46,098: 00:48:34.036 {eng}
00:53:46,098-01:01:57,339: 00:53:46.098 {eng}
01:01:57,339-01:08:33,026: 01:01:57.339 {eng}
01:08:33,026-01:16:46,769: 01:08:33.026 {eng}
01:16:46,769-01:22:24,022: 01:16:46.769 {eng}
01:22:24,022-01:31:21,434: 01:22:24.022 {eng}
01:31:21,434-01:41:15,361: 01:31:21.434 {eng}
01:41:15,361-01:50:56,483: 01:41:15.361 {eng}
01:50:56,483-01:59:16,941: 01:50:56.483 {eng}
01:59:16,941-02:02:43,648: 01:59:16.941 {eng}
02:02:43,648-02:14:33,216: 02:02:43.648 {eng}

This report was created by AVInaptic (18-12-2011) on 15-05-2018 02:12:20
[/spoiler]


[center]RINGRAZIAMENTI





RESTATE IN SEED ALTRIMENTI


Recently Added Torrents in Movies
Trackers List
tracker name
udp://tracker.opentrackr.org:1337/announce
udp://tracker.leechers-paradise.org:6969/announce
udp://tracker.pirateparty.gr:6969/announce
udp://tracker.coppersurfer.tk:6969/announce
udp://tracker.mg64.net:2710/announce
udp://tracker.zer0day.to:1337/announce
Sharing Widget